Lizzie Brocheré & Sarah Paulson American Horror Story s02e02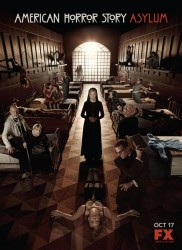 After last week´s promising start of the second season of American Horror Story I thought it might be a good idea to keep on watching it.
It´s a rather good TV show, too.
And I was not disappointed spanking-wise as well - as the second episode entertained its viewers with more spanking scenes.
In a quick blink-and-it-is-gone snippet we see Sarah Paulson Chloe Sevigny receive a caning from a sister.
But the showpiece is certainly a lenghty scene in which Lizzie Brocheré and Evan Peters are sent to Sister Jude for a good caning.
Lovers of X/M canings will be delighted when Evan steps up and offers to take Lizzie´s strokes, too.
DOWNLOAD:
Keep2Share Link:
Download file - 54.4 MB
File size: 54 mb
File Type: mkv
Resolution: 1280x720
Duration: 02:05