Naomi Watts MOTHER AND CHILD
Naomi Watts shows full frontal nudity !!!!
++ Kerry Washington naked underneath a guy in a sex scene on a bed, her right breast in view a few times as she puts her legs around the guy and someone calls to leave a message on the answering machine.
++ Naomi Watts sitting up in bed and then showing her bare butt as she stands up naked and puts on a robe. Naomi then walks out onto a balcony and turns to face a guy, opening up her robe to show her left breast and bush to a guy on the next balcony over in a full-frontal exposure.
Preview: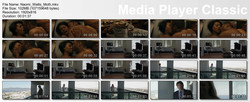 DOWNLOAD:
Keep2Share Link:
Download file - 102.2 MB
File size: 102 mb
File type: mkv
Resolution: 1920x816
Duration: 01:37
(celebrity, uncut,Mother and Child, Explicit sex scene, uncensored scene, naked, nude)