Juno Temple LITTLE BIRDS
++ Juno Temple showing bare breasts while sitting in a bath tub, first seen from the side before she pulls her knees up to her chest. She then lays back and submerges herself under the water, giving us a topless view from above.
++ Juno Temple on the floor of an empty house as she sits up to pull her shirt off and unhook her bra, going topless as she lays back and a guy leans over to kiss her. He then slips his hand up her thigh before stopping and kissing Juno some more as she lies on her back.
Preview: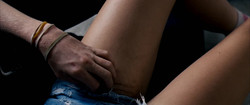 DOWNLOAD:
Rapidgator Link:
http://rapidgator.net/file/5c6d4422c...e_L_B.avi.html
File size: 156 mb
File type: avi
Resolution: 1920x812
Duration: 02:39
(celebrity, uncut,Little Birds, uncensored scene, naked, nude)