Ludivine Sagnier WATER DROPS ON BURNING ROCKS
AKA Gouttes d'eau sur pierres brûlantes
a film by Francois Ozon !!!!!
This is a bizarre film, and kind of creepy, about a german man who dominates a young boy. However, at around the 48 minute mark, the boy's girlfriend shows up, played by the delightful Ludivine. She spends the next several minutes running around naked, opening windows, laying in bed alone and with him, etc. Her amazing breasts are on display, and you see quite a bit of her butt and a short but well lit shot of her bush. The movie is not to everyones taste, but for about four minutes the sight of Ludivine is just captivating. As a bonus, you see her bouncing boobies from the side towards the end, as she has sex with the creepy old guy. Oh, and all these scenes are very well lit. She had nothing to hide back in 1999.
Ludivine Sagnier
is a French actress best known for her starring role in Gouttes d'eau sur pierres brûlantes, known as Water Drops on Burning Rocks in the USA. She has also starred in such films as Swimming Pool, Peter Pan and Napoléon.
Preview: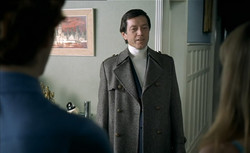 DOWNLOAD:
Rapidgator Links:
http://rapidgator.net/file/b223f2c46...part1.rar.html
http://rapidgator.net/file/60d3b93a3...part2.rar.html
File size: 309 mb
File type: avi
Resolution: 1170x720
Duration: 03:15
(celebrity, uncut, Explicit sex scene, uncensored scene, naked, nude)