Nicole Kidman - Dead Calm HD (Hot Sex Scene)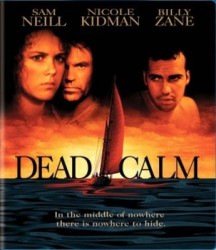 In an effort to distract the psychopath who has marooned her husband on a sinking boat and stolen their own, a very young Ms Kidman (21 at the time of release) allows herself to be seduced and pulled down to the floor of her cabin, though the look in her eyes has told us this is essentially rape.
She lies on top of him and he pulls off her top (no bra), then rips her shorts off, providing full rear nudity. We also get a brief look at her right breast from the side, with a prominent nipple.
In an effort to avoid actual penetration, Ms Kidman's character excuses herself for a toilet break (the camera remains pointed at her captor's torso, so all we see is the lower half of her lags as she walks away.
She slips into a jacket and tries to load a gun, but has to give up and indeed have sex with him. I've looked over the shots of her on deck, in the coat, but couldn't see any bush (obviously no method actress). Nevertheless, the whole sequence is buzzing with sexual electricity and it's little wonder Tom Cruise pushed for her to be cast in Days of Thunder. (Ghostwords)
Preview:
DOWNLOAD:
Rapidgator Link:
Nicole_Kidman_Dead_Calm_scene_HD.rar
PASSWORD:
2015
(nicole, kidman, dead, calm, forced, sex, ass, small tits,freckled, redhead)
File size: 256 mb
Resolution: 1920x800
Duration: 01:55